Chiropractor In Macomb Township MI Describe Many Different Solutions for Alleviation of Chronic Back Pain
Macomb Township MI Chiropractic Practice Eliminates Back And Leg Pain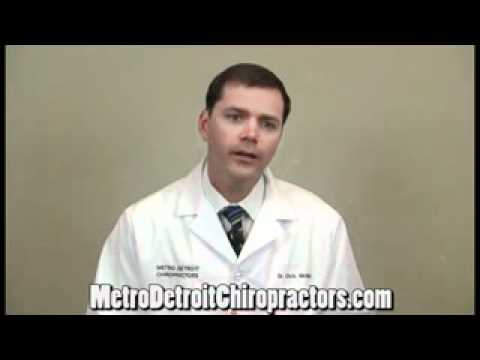 You can count on our chiropractors to focus our attention and energy relieving your low back pain. We offer several therapies for back pain relief. The treatments to relieve back pain will focus on several factors which cause back pain. Probably the single greatest anatomy involved in pain from the lower back is the inter spinal facets joints.
The signal of pain can only be generated from the nerve tissue which is embedded in the anatomy which is damaged or irritated. Our Macomb Township MI chiropractors strategy will first be to understand what anatomy is involved in the lesion. On many occasions we will employ two or more therapies to attack two different origins of back pain.
Muscle stimulation therapy is very beneficial for the relief of low back pain due to the multiple physiological effects. Electrical muscle stimulation therapy has many applications for the use of relieving low back pain. First it can be used as a nerve block to reduce or block the nerve signal. The second method of relieving back pain using electrical muscle stimulation is to reduce the inflammation. Inflammation is the bodys repair process yet the damage cells cause a change in the tissue acidity and this stimulates pain. Using the pulsed mode of delivery on the muscle stimulation therapy aids in reducing inflammation.
Another therapy used in our Macomb Township Michigan chiropractic practice is a cold pack. The cold pack when used properly can be very effective in reducing the pain signal from back pain. A cold pack will have two physiological effects in reducing back pain. First is the reduction of the nerve conduction velocity and second cold packs decrease inflammation. By reducing the nerve conduction velocity it helps to reduce the pain signal. When the inflammation of back pain is reduced the pain signal is reduced relieving back pain.
Our chiropractors in Macomb Township MI may also Consider using a treatment called interferential current. Interferential current is a form of electrical current with a modified frequency which has shown to reduce the pain signal. Placing the therapy pads at right angles is an important factor when applying this form of electrical current. To maximize the effectiveness of the therapy it is important to consider the relationship of pad placement along with which modified current to use to relieve back pain.
A distinct form of therapy to relieve sciatica by our Macomb Township Michigan chiropractors is peripheral neurological facilitation. This unique form of therapy uses the opposing muscle groups and their nerves to inhibit the nerve signal and thereby relieving back pain This form of treatment is a method of tricking the nervous system into relaxing and thereby reducing the pain signal. The reason for this is so the opposing muscle group is not contracting at the same time which will cause an injury. Back pain from muscles are especially considered for this type of treatment for the relief of pain.
For more information go to:
http://www.youtube.com/watch?v=uD0b4Q6cLwQ 
http://www.youtube.com/watch?v=5ZmNCtI7fN0 
http://www.youtube.com/watch?v=nsHmW_4MvPE